5 Fun Summer Garden Activities for Kids
25/07/2022


Image @StephLovesHoney wearing The Cub Hat with Flaps in Navykin

With the summer holidays stretching out in front of us, and warm weather all around us, planning out some fun sunny day activities for the kids can save time, money and effort. The most fun can be had right in your garden with hardly any equipment. We've put together some of our favourite ideas for fun garden activities for the kids this summer: 
1. Water Racing 
Take a tip from school sports day and create a fun relay race across the garden, but with a twist. Place a bucket at each end, one with water and one empty. Challenge the kids to scoop up a beaker of water and transport it from one bucket to the other as fast as possible. Depending on age and ability, you can customise how difficult you make the journey: put out obstacles or challenges such as spinning around or balancing on one leg. Whoever can get the most water into the empty bucket without spilling is the winner!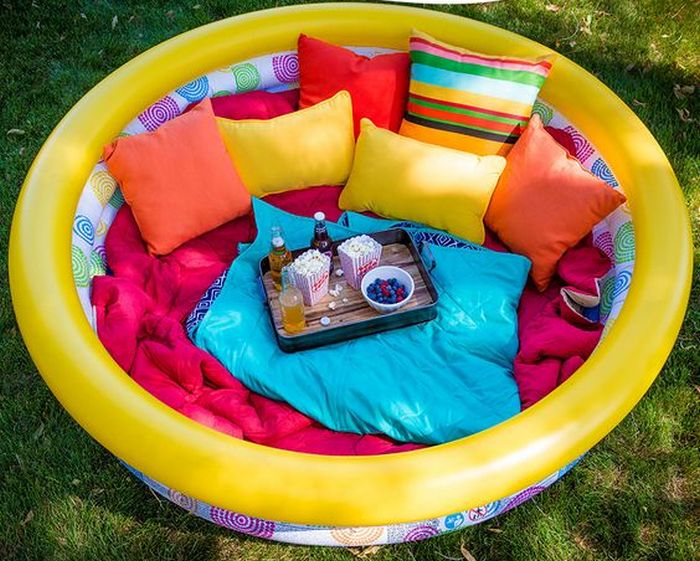 Image: Craft.Ideas2Live4.Com
2. Paddling pool cosy corner 

If you have a paddling pool that isn't in use, or might have a leak in it: there are still ways to make the most of it. Fill with comfy duvets, cushions and soft toys and create your own little cosy sanctuary. You can spend time before bedtime stargazing or reading stories: alternatively you could set up a tablet or projector and have your own movie night! If you do have a movie night, make an evening of it and craft your own paper tickets and make popcorn.



3. Mini Festival  


If you've been reading our blog series on
family friendly festivals in the UK,
you might have been tempted to take the little ones to a festival. Why not give camping a trial run in your garden, and even turn it into a little mini festival? Make a playlist of all your favourite tunes, pitch the tent and have an evening under the stars. You could also craft some DIY carnival masks with paper plates and some sequins or glitter glue! This will also introduce little ones to the idea of a festival, and give you a chance to see if camping is right for you. 
 Image: BHG.Com 
4. Egg Box Gardening 


A great way of introducing kids to gardening, and understanding where their food comes from, is to grow herbs or microgreens such as rocket or cress in the garden. Herbs or microgreens can be grown all year, so it's not an activity strictly for winter! Take an egg carton and use it to begin growing your seeds, all you need are your seeds and a little soil from the garden. Best left on a sunny surface such as a kitchen windowsill, little ones will quickly be able to see the progress of the plants, and how they become our food. Egg boxes are compostable, so they're easy to dispose of when you've finished your gardening project! You could also take pictures each day so they can compare the growth day to day.
5. Fun with Water Balloons 


On a hot day, there's nothing better than playing with water to cool down! There are so many fun ways to enjoy water balloons on a hot day. Use water balloons in a game of musical chairs, and the person who doesn't find a water balloon to sit on when the music stops is out! Or you can play hot potato, and pass round water balloons in a circle until the music stops: the last person with their water balloon un-popped is the winner! Even just letting the kids try to fill up water balloons without popping is a fun way to keep cool. 

Made in the shade:

While you're having fun out in the sunshine, don't forget your sunglasses! Little Hotdog Watson 
The Scout Kids Sunglasses 
 come equipped with a level UV 400 sun protection, flexible arms and life proof coating: making them perfect for summer adventures. You can also team this with the matching
Cub Hat in Panda Pop
 for ultimate cool kid status. 
Author Emma Watson founder of Little Hotdog Watson
Little Hotdog Watson is a kidswear brand with a difference. We make kids hats unlike any other by combining style + innovation. Our sun hats offer triple protection from UV, Mosquitoes and Overheating, while our winter hats are water resistant, reflective and extra cosy. Take a look at our hats here.
Share
Recent articles
15 fun filled and easy activities kids and grown-ups can play together
Fun Outdoor Kids Holiday Activities
Introducing our latest Spring Summer 2023 collection of kids hats.