The Coolest Playgrounds in the UK
18/01/2023
Biodiversity Playground at Stratford Westfield
image via Monstrum.DK

Since when did play areas get so cool?! Perfect for improving gross motor skills, promoting imaginative play and the joy of movement, play grounds are the perfect way for your little ones to burn off some energy. And most importantly, have fun!
These are some of the coolest play areas that the UK has to offer. Race you to the swings!   
Prospect Park Playground, Battersea Power Station
image via DuncanAndGrove.com

Price: Free
Address: Battersea Power Station, Circus Rd W, Nine Elms, London SW8 5BN

Once a coal fired power station on the Thames, Battersea Power Station has recently been turned into an ultra cool shopping and leisure complex (Crosstown Doughnuts and Le Labo in one place? Sign us up!). But why should adults have all the fun? This stunning playground is a mix of natural woods and bright maximalist design, created by designers to cater to a wide range of ages of children. It's located near the underground, and is open daily from 8am-8pm.




image via DuncanAndGrove.Com



Price: Under 4's go free, Ages 5-17 are £10.70 each, Adults £18.80 and a family ticket is £50.10
Address: TN8 7NG
Herver castle in Kent was the childhood home of Anne Boleyn, and its history spans over 600 years. But never mind all that, what about the playground shaped like a castle?! Entry is included with ticket price to Herver castle, so you can make a whole day out of it with all the family. Herver castle is set amongst beautiful grounds and gardens, so don't forget to pack a picnic!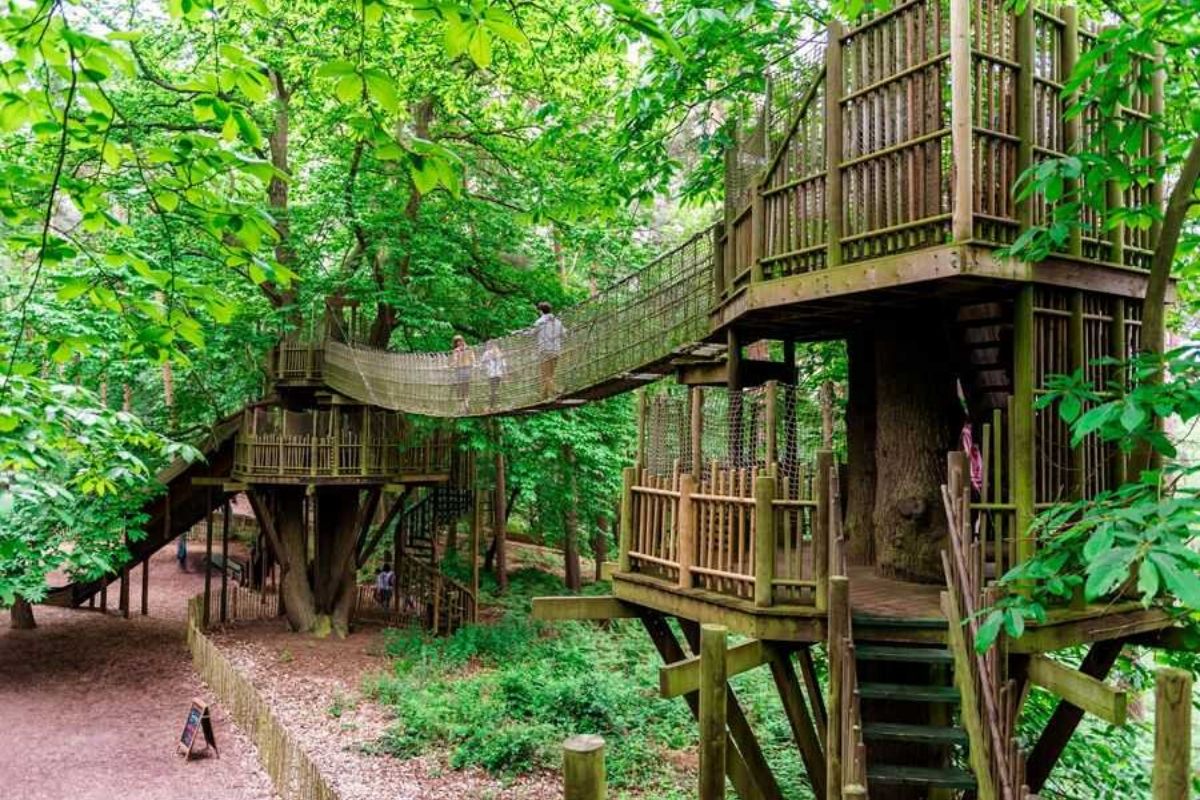 BeWILDerwood, Norfolk and Cheshire
image via FlashPackingFamily.Com


Price: Prices are based on height- 
Under 92cm: Free
92cm – 105 cm: £19.50
Over 105 cm: £21.50
Over 65 yrs: £13.50
Carers: Free
Address: Norfolk: NR12 8JW
Cheshire: SY13 4JF 
Website: Bewilderwood.Co.Uk

Based in two sites in Norfolk and Cheshire, BeWILDerwood is an adventure park set in woodlands, featuring zip wires, rope bridges, slides and more! This is absolutely an all day activity and a great idea for a special occasion. There is also a crafting area and a storytelling stage, so there's something for everyone! 


The Little Hotdog Watson Arctic Cub Hat in Gold


While you're out on an adventure, don't forget your hat! Our range of hats are super snuggly, water resistant and lined with Thinsulate and a comfy soft touch jersey! Perfect for a day of climbing, sliding and jumping! Check out our full range of kids hats and scarves here!


Burgess Park, Southwark London
image via DuncanAndGrove.com
Price: Free
Address: Albany Rd, London SE5 0AL 
Another stunning park in South London, Burgess Park has a wide range of activities beyond the playground, including tennis courts and an outdoor gym! Within this beautifully designed playground, there are also areas for under 5's and over 5's, so it's a playground that can grow with your little ones. It's situated in front of the Park Life Cafe at Chumleigh Gardens, so if you want to grab a coffee after a morning of fun and adventure, this is just the place!


Heartlands, Cornwall
image via HeartlandsCornwall.Com

Price:
Address: Redruth, Cornwall, TR15 3QY
Website: HeartlandsCornwall.Com
 
Cornwall is well known for beautiful surroundings and a great place to give little ones a taste of the great outdoors! Heartlands, situated in Pool, Redruth, is a celebration of Cornish culture, and a Cornish mining World Heritage Site. It's completely free to all, and there is also a mining museum, gardens, and the all important cafe. If anyone's offering, our order is a flat white and a slice of battenburg! 



Biodiversity Playground at Stratford Westfield
Image via EvieWinter.Com
Address: 
London E20 1EJ
Since it's regeneration beginning with the 2012 Olympics, Stratford boasts a wide range of play areas for children that are all aesthetically pleasing and great for kids to get out and use their imagination! The Biodiversity playground is situated just by Stratford Westfield, which makes it so convenient for transport links and good facilities. Designed by incredible Danish play equipment designers Monstrum, it's the only one of their designs currently in the UK. We hope more of their designs come to the UK soon, as they're just so imaginative! 

Parsloes Park Play Area - The Flamboyance of Flamingos, Dagenham
image via PrintMag.Com


Price: Free
Address: 
Ivy Walk, Dagenham RM9 5RX
Speaking of design, we couldn't leave this one off our list! Designed by visual artist Yinka Ilori, the design takes inspiration from the park once being inhabited by flamingoes. The colour palette and design are indicative of Ilori's work, and any playground this insta-worthy is good with us! 



Want more ideas for fun activities for kids, news and updates on our latest products? Why not sign up for our newsletter!



Emma Watson, Owner, Little Hotdog Watson


After growing up in the North-west of England, Emma's love of travel and style saw her career move to London with a fashion + business degree,  first working as a trend researcher then menswear buyer for some of the most famous stores in the UK. 
In 2015, having had her first baby she moved to Norwich to explore a family life closer to beaches and the countryside. Becoming a parent she found herself in a world of kidswear that didn't look good or perform for the type of fresh air fun as a family so she set about creating her own brand. Little Hotdog Watson was born in 2016. The summer and winter hats for kids and adults, jam-packed with innovative protective technology have gone on to win awards, grace the pages of magazines, like Vogue, Grazia, Independent, Mother and Baby and celebrities alike. 
Emma had another daughter in 2019 and became a lecturer in Fashion and Business at Norwich University of the Arts.  She continues to design hats at her dining room table and share her passion to help families get outside more and explore the world. Here is one of her favourite outside blogs; 15 games adults will love playing with kids
Email her anytime at; support@littlehotdogwatson.com or find her on Instagram.
Share
Recent articles
Summer party tip for a kid's outdoors party packed with fun filled decorations, games + fun ideas.
Seven ways to get kids to keep their hat on.
All the reasons why children and babies should wear hats!