Ten Fun Winter Activities for kids
25/10/2022
Arctic Cub Hat in Leopard Neutral
The days are getting a little darker, and the big coats are being brought out of hibernation. It must be getting closer to winter! From craft projects to outdoor adventures, there's plenty to keep you and your little ones busy. We've put together some of our favourite ideas for easy activities to beat boredom this winter!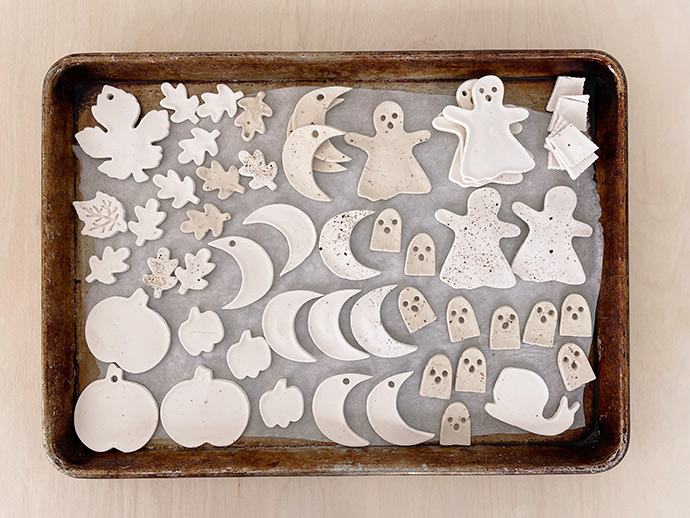 Salt Dough Decoration Recipe via HandMadeCharlotte.Com 
Make Salt Dough Decorations
The joy of dough is its ability to be stored away until next needed- but sometimes our creations are too beautiful to say goodbye to! Step in salt dough: a cheap dough that can be made with household ingredients that bakes hard, and can be made into decorations. 
We use this recipe from HandMadeCharlotte.Com to make our dough! 
Roll the dough out flat and use a cookie cutter of your choice to create your decorations. You can either use food colouring to your dough when making it, or paint the decorations once they're dried. 
Before baking, get an adult to poke a hole with a pencil in your decoration: this way once hardened, string can be threaded through to hang your decorations! 
For older children, you could also attach your decorations to hair clips or rings in order to make cute jewellery- these could be given as little Christmas gifts to family and friends. If you're using a glue gun or a strong adhesive, this should also be done by an appropriate adult. 


Kids Hop The Bunny Puddle Suit from DinoskiWear.Com
Go Puddle Jumping 
As the old saying goes, if you're bored of puddle jumping, you're bored of life: we might be paraphrasing there, but it's still true, for little kids and big kids alike. For little ones, a rain or puddle suit tucked into wellies is the perfect way to enjoy a good splash about without getting soggy socks. We love this one pictured above by Dinoski. Make it a challenge on a walk to find the best puddle possible! 


If you're looking for some fun, easy games to play in the park, why not check out our blog on 9 Fun Park Games and Activities for Kids! 
Image via @TaylansWorld
featuring the Arctic Cub Hat in Panda Pop Yellow


Don't Forget Your Hat! 
Our hats are made with a water resistant outside, and a special thinsulated inside to keep little ones cosy and dry so they can concentrate on doing what they do best: adventuring! Our winter hats also come with a reflective piping to aid visibility on darker days. You can check out our range of winter hats for children and adults here!
Take a flask of Hot Chocolate on a walk 
Having a purpose to take a walk can often motivate the whole family to get up and go, even when the weather is a little grey and the indoors is calling out to you! Why not get the kids to help to whip up some hot chocolate to take with you in a flask, along with a little container of marshmallows. When you're on your walk, find a nice park or bench and all enjoy a nice cup of hot chocolate! While you sit back and enjoy, you can look at nature with your little ones. 
Pineapple Pine Cone Craft via CreativeJewishMom.Com
Collect Pine Cones and Craft with Them
On a walk with your little ones, why not collect pine cones to craft with when you get home? Kids love to collect "precious" items they find on their travels, but it's difficult to know what to do with them once they get home. This way you can enjoy the fresh air, gather up pine cones, and have an activity waiting for home! We love this simple pineapple pine cone DIY, all you need is some paint and a little card to make this effective craft. 
Look Up! By Nathan Bryon via Penguin Books 
Stargaze Under the Night Sky
As it gets darker earlier, it's much easier to look up at the stars at night with kids in the winter. Grab a sleeping bag or plenty of warm blankets, warm clothes and a warm hat (our winter hats can be found here), and set up outside with a warm drink or flask of soup. You can buy a kids telescope, but there's plenty to see with just your eyes! You can also download apps that can help you identify what you see in the night sky. It's also the perfect location for a space themed bedtime story: we love "Look Up!" By Nathan Bryon and Dapo Adeola, available at Penguin Books. 
Plant bulbs for the spring 
 During late autumn and early winter, gardening might not be at the forefront of your mind, but planting some low maintenance bulbs with your little ones is a great idea to ensure a colourful spring garden! Bulbs such as daffodils, crocus' and tulips are easy to plant and forget until the spring, and a perfect way to introduce kids to gardening with minimum equipment. This is also a great opportunity to learn about the seasons, and how plants grow!  
DIY Bird Feeder via FireFliesAndMudPies.Com
Make a Bird Feeder
The outdoors is a perfect place to nurture kids imaginations, and bird watching can be a fun way to engage little ones in nature. You can make a DIY bird feeder with just a toilet roll tube, string, honey or peanut butter, and bird feed. Cover the toilet roll tube in honey or peanut butter, to give the bird feed something to stick to. Place the bird feed in a tray or food storage container, and roll the toilet roll tube in the bird feed. Simply feed the string through the tube and tie it in a loop, allowing you to hang your bird feeder from a tree. 
If you don't have a garden or outside space, there are hanging bird feeders available to encourage wildlife just outside your window. 
Apple Stamped Pumpkins via CraftyMorning.Com
Potato and Apple Stamping
 If you have any sad and forgotten looking potatoes in your cupboard or apples in your fruit bowl, you can turn them into a fun and easy art project! Apples cut in half make a great stamp to create pumpkins! Just brush lightly with orange paint and little ones can get stamping! After adding the eyes and mouth, leave to dry and these can be used as cards for friends and family: you could even get a start on Christmas cards to send out!  
Winter Scavenger Hunt 
Scavenger hunts are a perfect activity year round, because they can be tailored completely to your little one and surroundings. You can put this in a grid and fill out with little ones, or just use the notes app on your phone. This could be tied into collecting pine cones, leaves and conkers for other crafts, or just to see what's out there! If your little ones are older or especially fond of nature, you could get a little more technical: looking for things like an evergreen tree or a flightless bird! 
Similarly, a bingo card could also be easily created to last until Christmas activities begin, ticking off activities on a list like drinking a hot chocolate, seeing fireworks and cuddling under blankets! 
DIY PVA Glue Sun Catcher via BabbleDabbleDo.Com
Collect Leaves and Make PVA Glue Sun Catchers
PVA drying clear is one of life's small pleasures (just us?), and dried PVA glue can make the prettiest sun catchers to hang on your windows! 
Using jam jar lids or similar, pour in a generous amount of PVA glue to cover the lid. You can decorate with placing autumn leaves in the glue; or experiment with dropping small amounts of food colouring in the PVA glue and using a cocktail stick, swirl the colours to create fun patterns and colours. 
Leave the lids in a dry place for up to two days, until the PVA glue is fully dry. Carefully peel the PVA glue away from the lids, and put a hole in the top of your sun catchers to hang from your window, and enjoy how pretty they look with the sun shining through them! 
Want more ideas for fun activities for kids, news and updates on our latest products? Why not sign up for our newsletter!



Emma Watson, Owner, Little Hotdog Watson


After growing up in the North-west of England, Emma's love of travel and style saw her career move to London with a fashion + business degree,  first working as a trend researcher then menswear buyer for some of the most famous stores in the UK. 
In 2015, having had her first baby, she moved to Norwich to explore a family life closer to beaches and the countryside. Becoming a parent she found herself in a world of kidswear that didn't look good or perform for the type of fresh air fun as a family so she set about creating her own brand. Little Hotdog Watson was born in 2016. The summer and winter hats for kids and adults, jam-packed with innovative protective technology have gone on to win awards, grace the pages of magazines, like Vogue, Grazia, Independent, Mother and Baby and celebrities alike. 
Emma had another daughter in 2019 and became a lecturer in Fashion and Business at Norwich University of the Arts.  She continues to design hats at her dining room table and share her passion to help families get outside more and explore the world. Here is one of her favourite outside blogs; 15 games adults will love playing with kids
Email her anytime at; support@littlehotdogwatson.com or find her on Instagram.
Share
Recent articles
15 fun filled and easy activities kids and grown-ups can play together
Fun Outdoor Kids Holiday Activities
Introducing our latest Spring Summer 2023 collection of kids hats.